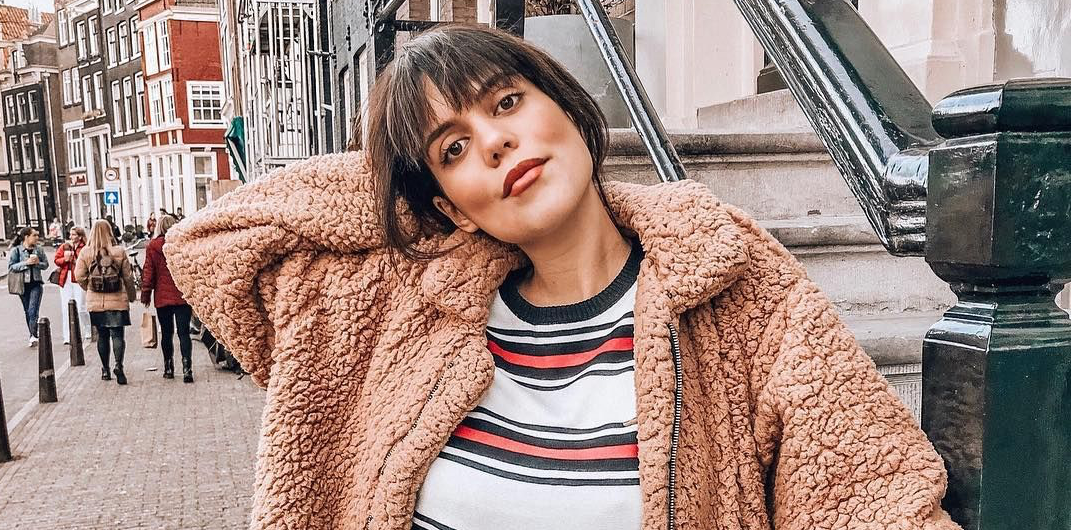 THE EDIT LDN INTERVIEWS (NADIA IDDER)
Known for being a streetwear influencer with a keen passion for sneakers, Nadia is on the rise. She's built a following of over 61,000 who tune into her outfit inspo and sneaker choices.
Here she talks to The Edit LDN.
For those that don't know you, can you give our readers a little intro to who you are and what you're known for?
I'm Nadia, I'm from Amsterdam and I post streetwear/sneaker related content on Instagram!
Tell us about your journey. What was the catalyst for you getting into the streetwear and have you seen a change in the market since you first started?
I've always loved the whole urban/streetwear scene. Even when I was little when I think about it. At one point those Russel Athletic and Champion jogger suits were totally it and I loved them so much. I do see a change in the sense that it's not just boys anymore. I see way more girls posting streetwear content on Instagram than a couple of years ago and I'm loving it.
What's your take on the current state of the streetwear market and is there anything you think needs changing?
I think that streetwear is very unisex in general so I would love to see streetwear brands just do unisex sections and get rid of the whole men/women sections.
Streetwear has previously been called a 'boys club'. Do you agree with that and do you think there are enough females in the space?
Like I've mentioned before, more and more females are showing up on social media when it comes to streetwear. I think there's still more men at the moment but I definitely believe that it will be 50/50 at some point. 
What do you think brands could do to advocate more females within the streetwear space?
Like I've said before, just do unisex collections. I definitely think that this will make a change. Like for example, the dopest Jordan 1's are mostly for men and females have to settle for the GS sizes, which always look slightly different. When Jordan drops a colourway for females 9/10 times it's a Jordan 1 mid, which just isn't as sick as a 'high'. I would love to see that all of them become unisex with sizes for both men and women.
Are there any people that you look at for fashion inspiration and in particular are there any influencers you think are really making their mark on the industry?
I get inspired by so many people. Social media is the biggest magazine you'll ever get. But if I had to name some people I would go for Hailey Bieber & Bella Hadid right now. When it comes to influencers I'll have to go with @blvckd0pe. She really set the tone for females in this industry in my opinion!
Onto you, if you could have any three sneakers with no budgets restrictions, which would they be and why?
Travis Scott Jordan 1 – That's just a legendary shoe that is still missing in my collection.
Off-white Jordan 1 Retro White (*pictured below) – I love almost every Off-White collab when it comes to Jordan's and these are definitely one of my favourites.
Jordan 1 Retro High Twist – They just go with everything and I just love the whole black and white vibe.
What did you make of the Jordan Dior drop, in particular the sneakers? Did you feel the price point was right?
The sneakers are insane and I really love the design. I didn't like the choice they made when it comes to the price though. I feel like they're still Jordans and the resell price would've been insane either way. I would prefer it if they did the same as they do with the Off-White collabs. Just stay with the Jordan pricing and let the resell price speak for itself. The Dior Jordan's weren't made for the Jordan audience and I think that's a shame.
Same goes to the 'Chunky Dunky' - what did you make of the controversy that so many pairs were being 'back-doored' by the skate shops and falling into the wrong hands?
I'm used to any hyped shoe getting back doored. As far as the whole skater shops thing goes, they're the ones who sell dunks so we can't really help that. Would be nice to see more sneaker lovers who genuinely wanted to get them but I don't like them to be honest.
Are you working on any projects at the moment that you'd like to tell us about?
I just got signed to the PAUSE agency not that long ago so I'm excited to take my Instagram to the next level!
Have you thought about designing your own clothing or any sneaker collaborations?
I would absolutely love that but I wouldn't know where to start to be honest. Maybe in the future!
If we gave you £1,000 which three items would you buy from The Edit Man London site?
Nike Dunk low Kentucky Blue
Jordan 1 mid Digital Pink
Jordan 1 low Paris
Or just get the Travis Jordan 1 (*pictured below) and add some of my own money haha.
2020 has been a tricky year for most but your brand has continued to grow. What's next in store for Nadia?
I don't really know to be honest. Especially with Covid-19 I've learned to just go with the flow and do what you love. You can always have some kind of plan in the back of your head but you never know where life takes you. I'm just taking it day by day for now!
Find her in Instagram @nadiaidder