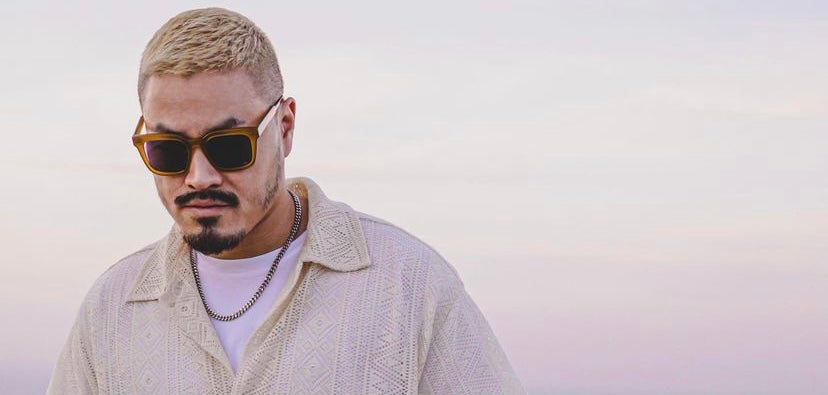 THE EDIT LDN INTERVIEWS ( THIERRY TEK )
You're a huge sneaker-head and the managing director of Visionarism, can you give us an intro to the man behind the feed?
I'm Thierry Tek, born and raised in Paris, and I'm currently based in London. I'm the co-founder and managing director of Visionarism, an independent creative agency specialised in digital content creation. I've also had almost a decade of experience in photography and art direction. I've always been into sneakers and fashion, so I can really say that I now live off what I'm truly passionate about.
To you, what makes a good sneaker? Can you describe your style to us?
My style depends on my mood so it's quite hard for me to describe it. But the simplest way to describe it would be to say that I mix streetwear and designer pieces to make pretty casual and comfortable fits. Same goes for my footwear choices. I like simple and comfortable designs, with a bit of character. As long as I feel good in them, they are good sneakers.
What are your top 5 sneakers right now and why?
I love to get inspired by the current trends and have my own interpretation in my style, so my most worn sneakers are constantly changing. Right now, my rotation would include the New Balance 992s, New Balance 2002Rs, Air Jordan 1's, LV Trainers, and Sacai x Dior Chelsea boots.
You mention being based in both London and Paris, what can you tell us about some of the differences between the streetwear and sneaker scene? and if you had to choose one you prefer and why?
In the past, the differences between London and Paris in the sneakers/streetwear scene were more noticeable. Nowadays, I feel like both markets are pretty similar. Before social media became a thing, I think each city had a much stronger identity in terms of brands, tastes, and styles. Things are more widely accessible now, there's hardly anything/any brands that you can't have access to in both cities. I wouldn't say it's neither a good or a bad thing. It's just how things have evolved and we have to adapt. To be honest, my heart is in Paris because it's where I'm from, but I had such an amazing experience since I moved to London that I can't choose between the two capitals.
New Balance is super hot right now, what are your thoughts on the brand? Have you picked up any pairs yourself?
New Balance really understand the current climate. I remember growing up mainly on Nike, Air Jordan, and Puma, while I had a small group of friends in Paris who'd be really into NBs. To me, it seemed like a very niche community back then. But for the last 3 years, I've been really enjoying the brand and have purchased quite a few pairs for myself. Beyond the premium aspect and the quality, I also find their collaboration choices very smart and interesting, like Salehe Bembury, Paperboy, Joe Freshgoods, or jjjjound to name a few.
How would you describe your shoe collection to us and what is your most grailed item?
I've been buying and collecting shoes for over 15 years so I'd say my collection is quite diverse. I've always been into sports, like tennis, basketball, breakdancing, so it includes a lot of Air Jordan's, Nike Air Force 1's, Air Max's, and Puma Suede's/Clyde's. Over time, I've really diversified the models and brands in my footwear choices.
I now have over 1000 pairs but my most prized item and ultimate grail is and will remain the Nike Mag released in 2011.
Who would you say your top fashion icons are and how do you think they have impacted the fashion industry?
In my opinion, Hiroshi, Nigo, and Kanye are some of the fashion icons who have impacted the industry the most, changing our perceptions of fashion and streetwear. I believe what they brought will always be engrained in us.
You recently got married, congrats! If we gave you £1.5k to spend on our site what would you gift your wife?
Thank you! After browsing your website, for about £1.5k, I'd pick the Off-White x Air Jordan 4 Sail, which is a pair she's still angry at me about for not getting her one when they released. (Laughs)
We saw you went to a Louis Vuitton show, how did you manage to get your hands on an invite and what can you tell us about the show?
I've been a customer of the Maison for a while now, and the brand will always hold a special place in my heart. They have been amazing to me since the very first piece I acquired from them years ago, so I feel very lucky and privileged to be invited to some of their events and activations.
The last show was very emotional. The choices of visuals and music were just perfect, and I don't think they could have done a better tribute to Virgil and his last collection. Bringing the entire team out to show the real people behind the scenes was something really remarkable and a very touching moment.
As per usual with V's designs, there were a lot of exciting RTW pieces, as well as footwear, bags and leather goods. My favourite piece of the collection was the purple varsity jacket, so let's hope it makes it way to production.
What do you think the future looks like for LV and if you wanted to see them collab with another brand which one would you pick (and you cant choose nike) ?
I'm really looking forward to see who will take over Virgil's position and see how they would grow the brand's menswear from there. I don't know what brand LV should collab with next, but I certainly would be excited to see them partner with Supreme again.
Tragic news on Virgil Abloh late last year, What are your thoughts?
As we can all read everywhere: "VIRGIL IS STILL HERE". He has changed the game and the legacy he has left will live on forever. He's a true inspiration, and he has shown an entire generation that anything is possible.
There is a lot of heat on the Air force 1 collaboration at the moment. If you have seen these in hand already, what can you tell us?
They are keeping it very discrete at the moment, so all I know is that it's going to be very exclusive, and pricey! I hope I'll be able to get my hands on a pair (or two ;)  ).
Lastly, what can we expect from you in 2022, have you got anything exciting planned?
The pandemic has made me work harder than ever, and it made me understand how important it is to be diversified in everything we do. 2022 is going to be a year of change, and I can't wait for everyone to see what I've been working on…